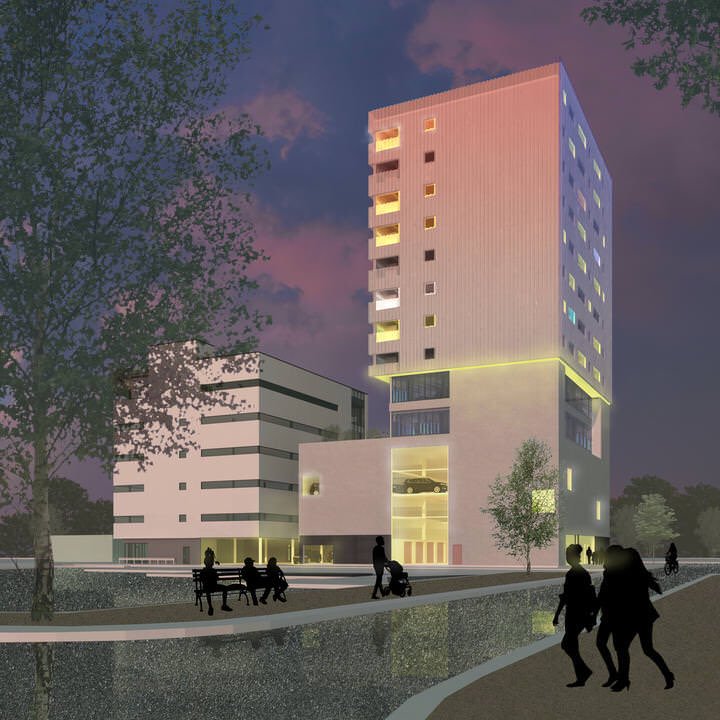 Status: Under construction since spring 2019. Expected completion in 2020.
Phase 2 of the Osborne Place development. 15 storey mixed-use residential, flexspace, retail, parkade. Will consist of 8 storeys of residential units that will be either rental apartments or condos depending on market demand, and 7 storeys of retail/commercial space and parkade.
Replaces: Office building for General Council of Winnipeg Community Centres

Project will be built in 2 phases: first phase will be the parking and commercial on levels 1-7 and second phase will be the residential on levels 8-15. The parking primarily services the office building at 257 Osborne St. Level 1: commercial, Levels 2-5: parking with one short-term residential unit per floor, Level 6: office, gym and roof deck, Level 7: office space, Levels 8-15: residential.
The development includes robotic parking. Parkers drop their car in 1 of 4 ground level entrance bays. The entrance bays have sensors which match car sizes with associated stalls inside the garage. A machine delivers the car to an appropriate stall, and returns it to the driver at the bay entrance when required. This parking system leads to some variances which are described amongst others in this report.
After request by the City of Winnipeg's Urban Planning Division, the developer agreed to provide 24 indoor and 24 outdoor bike parking stalls "to support multimodal transportation options for residents, workers, and other users of the building."
Source: Board of Adjustment meeting, Dec 12, 2018